Dog Nail Trimmer Pro™
Regular price
$69.90
Sale price
$37.95
Save 46%
/
---
The #1 Vet Recommended Nail Trimmer in the World
👉 According to expert advice & veterinarians of Proud Dog Parents, trimming your dog and cat's nails is more than just a cosmetic chore. Unhealthy nails can cause pain and trigger irreversible damage to your pet 🚫
Most, if not all, "quiet" nail grinders are not strong enough, so we have a life-changing solution for you. ❤️
👉 If you are looking to prevent foot and leg damage to your pet while saving money and staying in the comfort of your own home, then Dog Nail Trimmer Pro™ is perfect for you.
Seriously, after two uses, you will have already saved money! 😲
Dog Nail Trimmer Pro™ is a powerful, stress-free, at-home nail trimming solution for all pet owners, saving you time and money with over 215,000+ happy customers! 🐶 Use effortlessly on all pets: Dogs, cats (catclaw removal), birds, hamsters, guinea pigs, and more!
💸 A simple dog nail trim may cost between $20 and $30, depending on your location. Nail grinding may cost an additional $2-$8 than standard clipping. Stay home and save money after two uses with Dog Nail Trimmer Pro and our newly-released two-speed Dog Nail Trimmer Pro (Best recommendation for medium to large-sized pets who have thicker nails. You will still save after two uses)! 👈
Treat your best furriends to a stress-free, luxurious pawdicure with Dog Nail Trimmer Pro! 🐶
Please allow 7 - 21 business days for delivery!
Rico the Pug is getting his nails trimmed! 🐾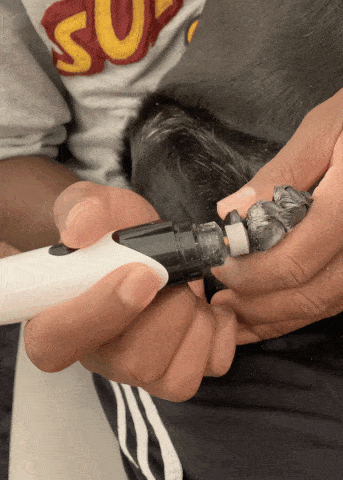 Why Do You and Your Furry Friend Need Dog Nail Trimmer Pro? 👈
✅ Safe & Precise Trimming - Dog Nail Trimmer Pro™ uses an advanced emery diamond-bit grinder (7000 RPMs and quieter than 50 decibels) to deliver the safest, most comfortable pet nail grinding. Veterinarians and pet grooming professionals recommend painlessly and precisely trimming your pet's nails anywhere. ✨
✅ Save Money - Spending your hard-earned money on frequent groomer visits? Our advanced technology will help you cut your dog's nails efficiently, wherever and whenever. 💸
✅Stay Home - Right now, none of us want to leave the house or spend extra money that's not needed. All it takes is once a week for upkeep! 🏡
✅ Perfect For Anxious Pets - Many pets get stressed by the sound and vibration of most nail grinders and clippers. Dog Nail Trimmer Pro™ uses a fine motor with whisper-quiet technology that produces a very low vibration to keep your pet calm by trimming their nails faster and easier.
✅ Use For All Pets - Can be used on all pets who need their nails trimmed. 😻
✅ Builds Trust With Your Furry Friend - Once you show them nail trimming doesn't hurt when using our Dog Nail Trimmer Pro, it will strengthen your bond, Building inseparable trust between you. 💙
✅ Rechargeable & Portable -This stainless steel design uses a rechargeable port for two hours. We recommend charging after each use! The lightweight and ergonomic body design also make it easy to handle. 🔋
✅ Premium Support -  Fast shipping from our warehouse in Los Angeles and a 30-day money-back guarantee. 🤝
Please allow 7 - 21 business days for delivery!